Role-Model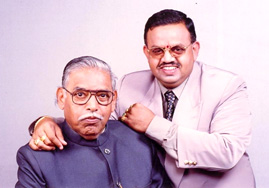 'Try not to become a man of success but rather try to become a man of value' - Albert Einstein; is what his father taught him and stood for. A man of values. A father and a motivator, he never ever sacrificed his moral values till his last day.
Late Sri K. Radha Krishna Murthy was born on April 29, 1934 in Kalyanadurgam, Anantapur District in India. After his education he serve the Statement of Andhra Pradesh as Village Development Officer at Adoni headquarters and promoted as Senior Accounts Officer, Zilla Parishad Kurnool. He retired in the year 1992. After his retirement from Government, he inspired his son to start MEENUS MERCANTIL GROUP which is into Finance & Investments; Export / Import of Gold & Precious Metals; Trade Financing etc.
There were several milestones in his career, which are true guidelines for youngsters to follow. He suffered a severe heart-attack and breathed last on 11th July 2006. He was an unforgettable great individual who dedicated his life in service of humanity without ever looking for gains.